handy andy car wash - Franchise opportunities
Big enough to cope... ...small enough to care
Handy Andy Car Wash provides hand car washing and valeting services throughout the UK.
Tingley Garden Centre, WF3 1SL
Tingley Garden Centre is a premium Garden Centre, located south of Leeds and close to Wakefield.
The Garden Centre is newly built and opened its door in September 2022. It is owned by the same company that owns and runs Tong Garden Centre. The Garden Centre boasts a café, restaurant, kids indoor and outdoor play area.
We have got a 5 year lease, with an option to renew for a further 5 years.
New Car Wash Franchise in Prestigous Garden within Liverpool Area.
Contact Terry for more details on 07734 378094
New car wash franchise on busy retail park in Shiremoor.
Northumberland Retail Park, West Allotment, Newcastle upon Tyne NE27 0FS
Contact Terry for more details on 07734 378094
2023 / 2024 Potential Sites
We are currently in negotiations with Garden Centres located in the following areas:
Gloucester, Cardiff, Exeter (Devon), North London, Alnwick
Facts about the Automotive Franchises
 UK's automotive industry is a vibrant sector of the economy, generating many jobs and business opportunities for entrepreneurial individuals.
People are choosing to keep their cars longer, especially during this economic uncertainty, which means customers are having to look after and maintain their vehicles. Owning a car wash business provides valuable services to people in the Uk.
There are over 38 million vehicles on the roads at present, the market value for the car wash industry exceeds £1 billion a year!!
Who are We?
Handy Andy Car Wash (HACW Ltd) provides a hand car washing and valeting service throughout the UK.
We are a family run business, with friendly ways of working.
We believe Garden Centres Car Parks provide the perfect retail environment to succeed. Garden centres provide brilliant dwell time. Whether that is a coffee and a cake or a walk around the garden centre itself, it is an easy way to spend 45 minutes while their vehicle is valeted. Garden centres are also adopting kid friendly play areas into their centres. This ideal for Grandparents to take the little ones whilst they relax. We are located in a large number of Dobbies Garden Centres, as well as Henry Street Garden Centre, Palmers Garden Centre, Pennells Garden Centre, Mere Park Garden Centre and Tongs Garden Centre.   Our portfolio is growing all the time and we currently have a number of sites in the planning process.
Key questions to Ask Yourself?
Are you tired of doing all the work while your boss takes the credit and money?
Are you a hard worker, but not appreciated?
Have you thought of being your own boss?
If your answers to the following questions is yes, then why not make a change!!
Many people dream of running their own business, but for variety of reasons, they never fulfil their ambition.
Why don't you make the  leap and own your own franchised car wash?
You will be in charge of your own destiny!!
Why buy  a car wash franchise instead of setting up on your own?
The most important thing is the location. You need somewhere for the customers to go while the vehicles are being worked on. All our car washes are in prime retail locations.
Need to apply for planning and all the problems and costs associated with it. As the franchising company we look after this.

 

Need to install correct drainage on the site to meet planning requirements. As the franchising company we look after this.

 

Need an office/store and a canopy to operate in all weather conditions. We provide use of these on the site.

 

Need to build a reputation as a new car wash. We have been operating for 15 years. We have got 16 sites operating at the moment.   We have got 4 sites with planning permission and ready to open in the near future.

 

Necessary Paperwork for running a site. We provide a Health and Safety folder with everything that you need to run a business. We will write a risk assessment for your site as well as a health and safety policy.

 

Dealing with customer complaints. Customer Service is a skill that comes with time. We often support with all customer complaints, speaking to customers on your behalf if you are unable to resolve the issue yourself.   We also have the technical back up of our National Chemical Supplier, Autosmart with any technical problems.

 

What happens on your days off. We all need a day off, but how do you know what is happening on site. We install a full HD CCTV around every car wash.   Every site has 8 cameras, ensuring no area is missed.  All the cameras are accessible through your mobile phone.
How much does a franchised car wash cost to start up?
To start a franchise with HACW it can require an investment of approximately £30,000 ex Vat.  This may vary according to location and the size of the site chosen. Larger locations or higher profile destinations may require a greater amount of investment.
So what do I get for my money?
A 5 year lease with an option to renew for a further 5 years
Guaranteed rent fix if you take on a further 5 year lease.
The use of a high quality cabin with Washing Machine, Fridge, Hot running water, Kettle, Microwave. See pictures.
Pricing Board
Full uniform for workers
Starter Pack of Autosmart Chemicals
We give you training and side by side support, giving you the confidence and freedom to run a successful sales and business management franchise.
24hour / 7 day a week support from HACW Team.
So what else do I need to run the franchise?
Your high Pressure Pump(s)
Hoover(s)
PL and EL Insurance 
That is it, nothing else is needed.    
It sounds simple, doesn't it?
What sort of experience or background do you need before starting a franchise with Handy Andy car Wash?
You do not need to have prior experience in the car washing industry to start a franchise with us. We can provide training. All we ask is that you have got good communication skills (able to speak to customers) strongly motivated and have the ability to drive yourself to succeed and the willingness to work hard.
You should also have good organisational skills in order to provide efficient services that meet the high standards associated with the brand on a consistent basis.
So Why would you want to buy a
Handy Andy Car Wash Franchisee?
We have been operating for 16 years.
We have a winning Business Model.
Owning a franchise is a great way to take control of a business while avoiding many of the risks associated with starting up your own. Our excellent training, together with guidance will give you all the tools to help build your business and become successful.
We ensure that all our sites are compliant for environmental, H&S and planning requirements.  
We regularly visit the sites to support your development and the success of your business.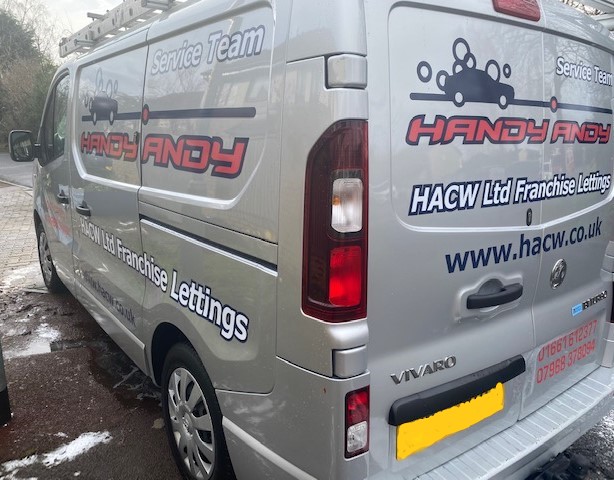 Future locations in 2022/2023
We will have new Car washes opening in the following areas during 2023. If interested please give Terry a call on 07968 378094 to discuss further.
Cardiff
Gloucester
South Leeds (WF3 1SL)
Thorpe Arch near Wetherby (LS23 7FZ)
Ipswich
Please keep returning to this page for updates on additional locations.
Handy Andy Car Wash Centres
Perhaps a car wash franchise might be the answer.
Please give Terry Fullwood a call on 07968 378094, to discuss our current opportunities and future sites across the UK.
Or complete the form below…